Quality management

The quality and health assurance management system, implemented within the forwarding company's conditions, sets forth the principles, rules and procedures ensuring the quality in compliance with requirements of the EN ISO 9001:2008, HACCP. and GMP B4.1 standards for all employees of the forwarding company. The quality and health assurance management system (SMK) identified in the forwarding company has been implemented, maintained and defined as:
The international and domestic foodstuffs and fodder transporting under regulated temperatures
The forwarding company management undertakes to observe the foodstuffs and fodder transporting quality policy while fulfilling health assurance requirements, and to create sufficient financial, material and personal resources to ensure the quality policy and its objectives' fulfilment through:

| | |
| --- | --- |
| | Keeping track of new trends in transporting foodstuffs and fodder under temperature controlled conditions that might directly influence the transports' quality and health assurance; |
| | Observing legal and legislative requirements for safe and health assured foodstuffs and fodder transporting; |
| | Identifying customers' specific requirements regarding quality and health assurance of transported food and fodder products; |
| | Taking continuous care of the environment and the effective management of principles applied in the environmental protection; |
| | Assuming the responsibility for the optimal quality development and achievement by building prerequisites in the company for its optimal implementation; |
| | Taking required measures and enforcing all company's participating employees to consider the quality their highest priority. |
The company's marketing strategy involves achieving its long-term and sustained development in the foodstuffs and fodder transporting, permanent improving of the level set for the quality of services and their specification according to requirements of specific customers.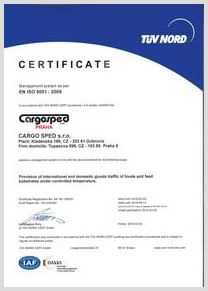 Certifikát ISO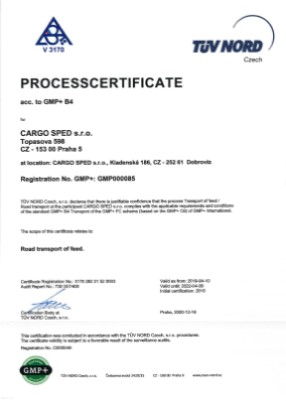 Certifikát GMP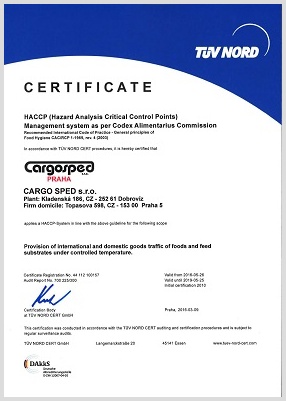 Certifikát HACCP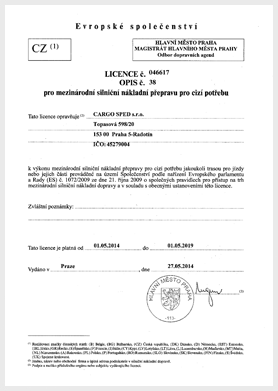 EU-licence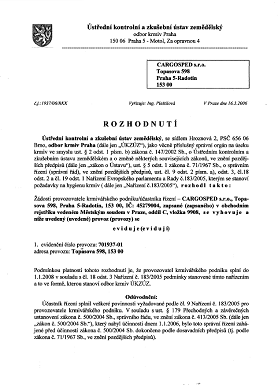 Feed